This is a question I get a lot from students preparing for the USMLE Step 1 re: efficient note-taking.  An abbreviated sample message is below:
Hello Alec,

I am extremely sorry to be bothering you again. But this thing has been troubling me a lot. Could you kindly tell me if you had taken UWorld notes? I've been writing down all UWorld stuff and it is taking forever. I feel like just reading through the explanations and saving time. Kindly help!. I am so sorry to be bothering you again.

Regards,

S.
Dear S.,
That is a fantastic question.  Yours is a very typical approach: taking extensive notes on everything you find in the USMLE World explanations when reading through, either by writing the notes in a separate notebook, or annotating it directly into First Aid.  I, like many other students, have encountered many of the same issues you have described.  These issues have real consequences: less efficient learning of material, diminished sleep, and worse retention of the most important topics.  Here, I detail exactly what I did to overcome many of those inefficiencies.
The Mistake: Extensive USMLE World Notes > Doing UWorld
There are several problems to this note-taking approach (you have already noted one):
It takes a long time
With the little time remaining, there is no time to go back and read the notes
Even if there were time, as the notes grow, it becomes virtually impossible to FIND the notes
Let's use an example to illustrate this third point.  Let's say that I took notes on Addison's disease, and annotated my First Aid copy as so many people do.  But, first, WHERE do I annotate my First Aid?  There are so many different places that a disease like Addison's will be mentioned in First Aid, finding the most logical place becomes more difficult than you would imagine.  Even when I find a suitable space to write my notes, the same issue arises when I try to FIND my notes. Plenty of friends would complain constantly about how messy/disorganized First Aid became as they annotated it more and more, and that they were spending more time trying to FIND their notes than they were actually studying.  Sadly, they are not alone.
The Solution: Introduce Anki Into Your Studying
While it is tempting to see the amount of time spent taking extensive notes on USMLE World and give up on taking ANY notes, there is still valuable information that is worth the investment of time.  Whatever our solution, we want it to accomplish three goals.  We want it to be:
Focused on the highest-yield information (i.e. what will help us best maximize our score)
Easily and quickly referenced
Retained in the least time possible
Turns out, there IS something that accomplishes all three goals: Anki. What is Anki?  I've written about this before (e.g. here, and here): basically Anki is a program that is based off of spaced repetition, and will show you questions that you make in such a way that you will remember things indefinitely, in as little time as possible. It really works, and is one of the main reasons I was able to score 270 on the USMLE Step 1. If you want examples of higher-level Anki cards that will help you to integrate and apply information, just like you will need to do on the USMLE Step 1, go to the Table of Contents, or see examples here, here, or here. Most medical students, if they don't immediately jump for joy upon hearing about Anki, will say something like the following:
Anki sounds great, and I wish I'd heard about it months ago, but I don't have time for it currently, and will use it for the USMLE Step 2CK, etc.
For ANY USMLE Step exam, you can't afford NOT to use Anki.
While there is a bit of a learning curve involved, if you had even 3 weeks before your exam, I would recommend using it.  In fact, if you're studying for ANY USMLE Step exam, you can't afford NOT to use Anki.  To speed up the learning process, I wrote Basic Anki Card Creation: The Complete Guide for Med School and the USMLE Step Exams.
Turn Educational Objectives into Anki Cards
So how do I use Anki, and how does it accomplish the three goals we laid out previously?  First of all, most medical students assume that to use Anki effectively, you have to copy a bunch of facts into your cards BEFORE you even open a QBank.  This is patently false.
I would NOT just copy First Aid into Anki cards – you may already know a fair amount of First Aid, and more than that, memorizing straight facts for the USMLE Step 1 has never been an effective way to maximize our scores. In the beginning, make it simple.  I had a friend who had a simple rule for Step 1 studying: he never wrote more than 1-2 lines of notes for any given USMLE World question.  While this saved him a ton of time, he complained that as his notebook grew, his nightly review of the facts became less and less regular. What if, instead of taking 1-2 lines of notes/question in a small notebook, you put those notes into Anki.  Then, instead of passively reading your notebook, you made 1-2 simple Anki cards, and made sure to review those cards every day.  You might make 30 cards a day, which would take you no more time than writing down the notes into a notebook, while reviewing those cards would take 30-60 minutes the first several days, then 1-2 hours every day thereafter. Even though this may be an overestimate of the time it takes (I typically budget 1 hr per 100 cards of review, with 1-2 minutes if it's a new card I haven't seen before), the benefit is that you will have indefinite recall of the notes you take with minimal time use, and can reference your notes quickly and efficiently.
Efficient Referencing → Sleep ↑, USMLE Step 1 Score ↑
Here is an example of the magic of using Anki to reference ANY note I have written.  Let's say I forgot whether Addison's was linked to hyperkalemia or hypokalemia.  If I had annotated that into First Aid, it would have taken me a good 2-10 minutes just to go to the index, find all the listings for "Addison's" then go through all the pages just to find the page where I'd written my notes.  It wouldn't be better if I'd taken my notes into a separate notebook – how long did my friend spend digging through his notes just trying to find a factoid.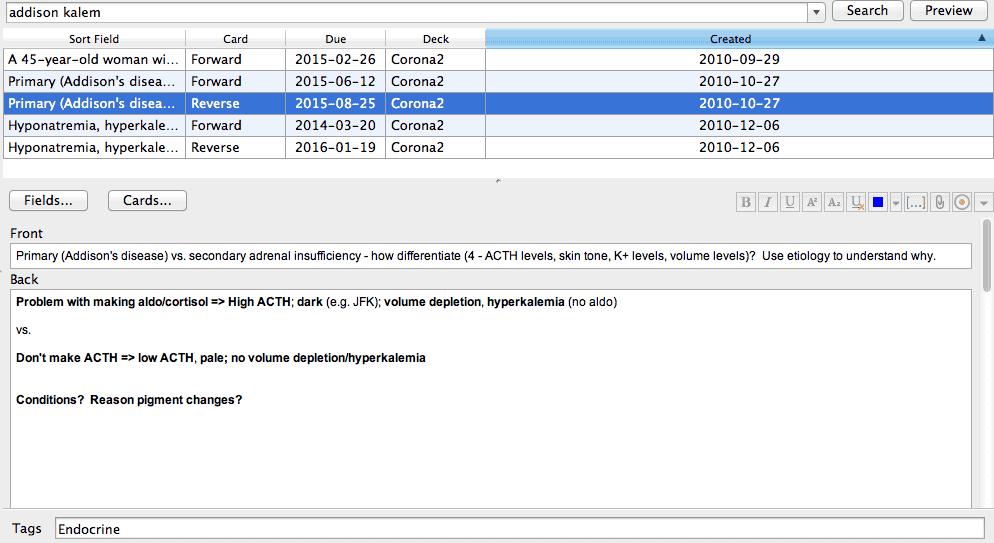 It took me less than 15 seconds to find this card, rather than several minutes. Over the course of a week, you do the math.
Even though I have >15,000 cards, it took me <15 seconds to find my card that links Addison's disease w/ hyperkalemia (all I typed was "Addison" and "kalemia").  I used to reference upwards of 10-20 cards every day, which saved me at least several minutes every time I did so.  Plus, along with the amount of time I gained by never forgetting my notes created a gigantic snowball as it rolled down the proverbial hill. The time saved with Anki adds up in a huge way, and increases the amount of time I can allocate for studying, sleeping, and having a life.
What to do next?
So to answer your question, remember to always ask, "Maybe activity X may increase my score, but what is the best way to maximize it?"  I hope I've given you some ideas that you can use!  Next, you should:
Download Anki, if you haven't already, and read the tutorial for making basic cards
Start slow by making 1-2 cards per question you get wrong in a QBank
Make sure to do your cards every day
Check out the Step 1 Cheat Sheets, which are constantly updated
Say hi on Facebook!
Sign up for updates via e-mail to get your FREE Starter Deck (see below)
Check out the Resources page to see what I used to efficiently boost my Step 1 score.