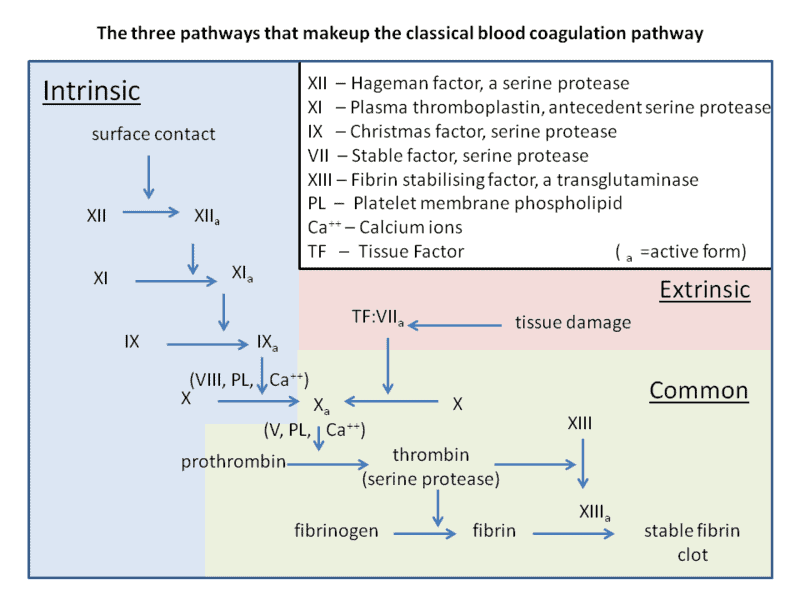 Here, we will walk through warfarin skin necrosis, and in the process, deepen our understanding of the coagulation cascade, one of the most dreaded topics for medical students on the USMLE Step 1. Then, at the end, I will give you ready-made Anki cards that you can put directly into your Anki deck.
As a teaser, I will start with the questions you will be able to answer by the end of this. By understanding these "pathogenesis to presentation" questions, where you can create a narrative between the pathophysiology to the way that they present, you will in fact be able to recall the related information involved without having to memorize it! Here are the questions:
Explain what paradoxical effect can happen if you give warfarin alone. What can do you do to prevent this, and why does it work?

Explain the basis for warfarin skin necrosis using the coagulation cascade. What population is this typically seen in?

Factor V Leiden – using your understanding of the coagulation cascade, explain the basis for this disease

Factor V Leiden – classic presentation?
Here, we will see how answering these questions will help you solidify topics you need to know (warfarin skin necrosis, paradoxical effects of giving warfarin) while helping your recall important details for the USMLE Step 1.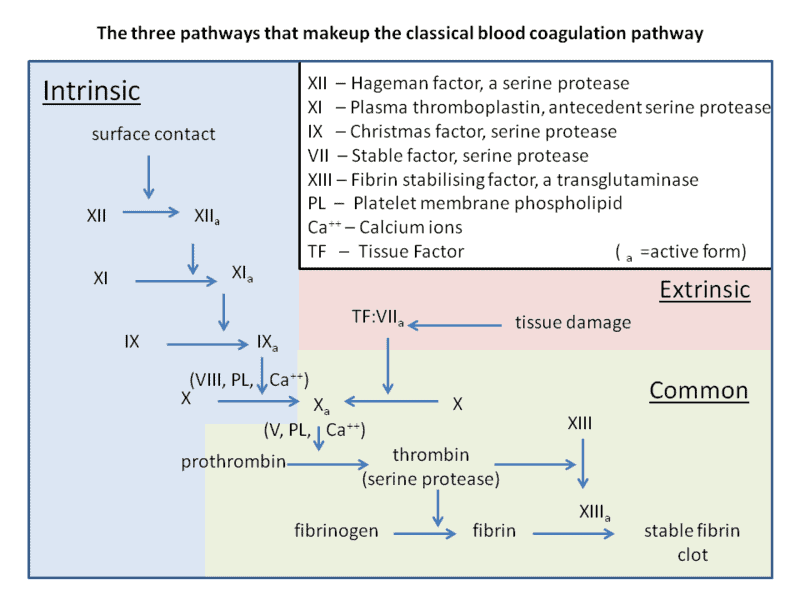 Fundamental Facts:
Coagulation is making a clot.
Primary hemostasis (platelet plug formation), and secondary hemostasis (coagulation cascade).
To stop yourself from bleeding, platelets first aggregate together, but they adhere to each other very weakly.  If the platelet plug breaks up again, you will begin bleeding again, so the coagulation cascade produces fibrin cross-links (reinforces) platelets to allow them to bind to each other more strongly, thus decreasing the risk of re-bleeding
There is the extrinsic pathway and intrinsic pathway. These both lead to the common pathway.
Many coagulation factors are zymogens (inactive proteins) that cleave downstream factors to activate them, which then cleave downstream factors. For example, Factor XII, when cleaved, will activate Factor XI by cleaving off a small fragment from it, which will then cleave Factor IX, and so forth.
Factors XII, XI, IX, VIII.
Damaged endothelium → tissue factor release → Factor VII activation → common pathway activation
Factor X → Factor V → Factor II (thrombin) → turns fibrinogen → fibrin, which binds platelets more tightly to each other
When activated, they cleave activated Factor V (Protein C), and Factor VIII (Protein S)
Basically, the balance between pro-coagulant forces (the coagulation cascade) and anticoagulation forces (e.g. Protein C + S)
Inhibits the action of vitamin K, which γ-carboxylates glutamate residues on factors II, VII, IX, X as well as protein C + S.
Protein C, and factor VII (~1 day)
Relatively long half-life (~20 days).  Produced in liver.
Wait!
It is strongly recommended that you attempt to answer the final questions by yourself first, before looking at the answers.  Remember, the USMLE Step 1 exam will test your ability to make connections on the spot, the more practice you have, the higher your score!  Then, when you think you might know the answer (or are completely stumped), look at the answers below!
Look for the original questions below!

NOTE: I have added "reverse" questions to make adding it to Anki easier.  Thus, you will see words in the question that weren't in the original questions – they are intended to be the answers to the "reverse" questions.
Protein C half life = FVII half life (short) → could become hypercoagulable by acutely decreasing protein C, while still have higher level of other procoagulants. In other words, while we typically think of warfarin acting against coagulation factors, it will ALSO decrease protein C. By having too little anticoagulant forces (too little protein C), we can become transiently hypercoagulable. Thus, BEFORE warfarin, we START with heparin/low molecular weight heparin, which will decrease the procoagulant forces transiently until the other coagulation factor levels fall
It is typically seen in those with a protein C or S deficiency. This is because people who are ALREADY low in anticoagulant factors will be even MORE prone to the hypercoagulable effects of giving warfarin
Warfarin → procoagulants > anticoagulants → thrombosis → circulation ↓ → cell death/necrosis
Condition?
Factor V (pro-coagulant) is resistant to inhibition by activated protein C (anti-coagulant).  Thus, this will make you MORE prone to clots.
Young woman in 20s started birth control pill, and develops DVT with or without PE
Condition?
Albumin normal (long half-life, so even though liver may have failed, because albumin sticks around in the body for a long time, albumin will remain normal during acute failure), but PT ↑ (conversely, factor VII has a short half-life, so acute failure will lead to a ↑ PT)
Albumin low, PT ↑
What should you do next?
Turn the narrative, "Pathogenesis to Presentation" questions into Anki cards by copy/pasting the question/answer into the "Front" and "Back" fields in Anki.  Do the same for the fundamental facts that you were unfamiliar with, to maximize your chances of USMLE Step 1 success!  Remember: the USMLE is a test of understanding, so the better you can understand these questions, the better your score!
Add reverse cards when appropriate to your Anki cards
Re-word the questions/explanations as desired, and BOLD the important text to make it easier to review in the future
Learn something new?  Something unclear?  Comment below!
If you liked this post, please consider sharing it on Facebook/Twitter!  I judge the utility of these posts by the number of comments / shares they receive, so if you'd like more, or would like a particular topic addressed, please let us know!
Photo by Dr. Graham Beards